The main hot spring sites in Val di Chiana and Val d'Orcia Siena
What to see in Chianciano? What are the best free spas in Tuscany? In this article we will talk about the free spas in Val d'Orcia.
 
Holidays and breaks in Tuscany
What to see in Chianciano? Well, first of all, let's talk about this town. It is a small town of about 6,000 inhabitants, in the province of Siena and about 70 kilometres from the capital.
And again, what are the best hot springs and free spas in Tuscany? In the next paragraphs we will look at the free spas in Val d'Orcia, one of the most enchanting places in the Siena area.
 
Enogastronomic tradition
Art and uncontaminated nature are the backdrop to the renowned wine and food tradition that makes this area famous throughout the world.
In fact, the Chianciano area is the "home" of Chianti wine and Nobile wine, both derived from the Sangiovese grape, as well as the famous Pecorino di Pienza.
Not to mention the iconic bistecca alla Fiorentina (T-bone steak) and many other products that make this area one of the most popular destinations, both for Italians and foreigners.
 
Things to see in Chianciano
Chianciano: what to see during a relaxing holiday?
The choice is really wide, ranging from architectural to natural beauties. In fact, this town is located on the border between the Val d'Orcia and the Valdichiana.

For all lovers of wellness and relaxation, the main places of interest in Chianciano are:
 
Parco Acquasanta.
Pietraporciana's Natural Reserve.
Parco Fucoli.
Sensory Spa - Terme sensoriali.
Parco terme di Sant'Elena.
Thermal Pools - Piscine termali Theia.
 
Tourism, but not only. Thanks to the
beneficial properties of thermal springs
, more and more people are coming to these places in order to find
natural relief from a whole range of illnesses
.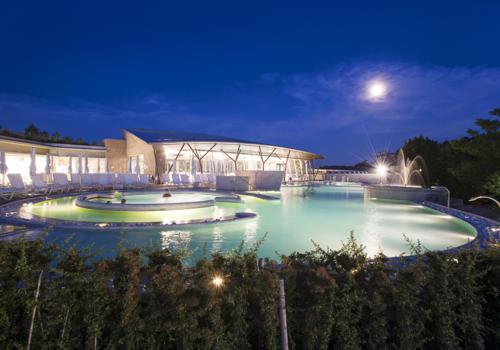 Hot springs sites in Tuscany
The free thermal baths in Tuscany attract thousands of tourists from all over the world every year. Of course, there are also paid spas, but many prefer the 'wild' ones, immersed in unspoilt dream landscapes.
The latter are scattered throughout the region, in fact there are spas in every province, each with its own peculiarities.
The most known in Tuscany are those called "Cascate del Mulino" located in Saturnia, South-west of Tuscany, in the Province of Grosseto.
 
Hot springs sites in Val d'Orcia - Siena
Those staying in Chianciano can also easily reach the main free hot springs in the Val d'Orcia. There are several in this area, including:
Bagni San Filippo: are located in the south of the Val d'Orcia and, in the Fosso Bianco stream, there is an excellent free spa area.
San Casciano dei Bagni: There are more than 40 thermal springs in this area. The free entrances are located at two large pools, called "Bagno Bossolo" and "Bagno Grande" respectively.
Bagno Vignoni: one of the hottest thermal waters in the whole area springs from the volcanic subsoil. Precisely for this reason, over the decades many famous people have decided to spend their relaxing holidays here.
Conclusions: what to see in Chianciano
In this article we have reviewed only a small part of what to see in Chianciano.
In fact, thanks to its strategic position, it is possible to reach many other places where you can relax and take care of yourself, such as the various springs in Val d'Orcia.

All this while enjoying the world's best food and wine traditions.
 
Are you interested in a stay to discover all this in person?
Fill in the form below and we will contact you.